This holiday season, take a biblical journey through the Christmas story in the Gospel of Luke. In CBN Israel's free devotional, The Promise and The Hope, you'll see the birth of Jesus through the eyes of those who earnestly awaited the arrival of the Messiah. You'll also be encouraged like never before to put your hope and trust in God. This Christmas, may you experience God's presence in your life like never before.

Get your free copy of this special devotional today!
MAKE A DIFFERENCE WITH CBN ISRAEL
CBN
ISRAEL
The Christian Broadcasting Network (CBN) has been proudly committed to supporting the nation and people of Israel for nearly 50 years.

When you partner with CBN Israel, you become part of this historic legacy while also shaping the future of Israel advocacy for generations to come.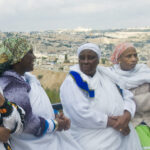 Imagine walking through the desert for weeks—a long, dangerous trek, where you shed whatever weighs you down. And arriving in a new country with nothing—all to fulfill a dream. This is the plight of Ethiopian Jews who immigrated to Israel, the land of their ancestors....
Read more
PRAY FOR ISRAEL
One of the most important things we can do is pray for Israel. Here are 25 ways you can pray for the people and nation of Israel.
Your support of Israel today makes you part of the redemptive story God is telling through His people.
Take Action NOW. Join US Today.