This Easter, spend time reflecting on Jesus' final week as recorded in the Gospels—from His triumphal entry in Jerusalem to His death and resurrection. In CBN Israel's free devotional, The Hope for Redemption, you'll follow Jesus' path to Jerusalem, observe His last Passover meal, gain insight to His agony at Gethsemane, witness His painful crucifixion, and encounter the empty tomb! This Easter, realize afresh that He is risen!
Get your free copy of this special devotional today!
MAKE A DIFFERENCE WITH CBN ISRAEL
CBN
ISRAEL
The Christian Broadcasting Network (CBN) has been proudly committed to supporting the nation and people of Israel for nearly 50 years.

When you partner with CBN Israel, you become part of this historic legacy while also shaping the future of Israel advocacy for generations to come.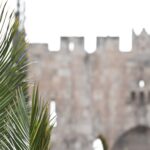 "Then, as He was now drawing near the descent of the Mount of Olives, the whole multitude of the disciples began to rejoice and praise God with a loud voice for all the mighty works they had seen, saying: 'Blessed is the King who comes in the name of the Lord! Peace…...
Read more
PRAY FOR ISRAEL
One of the most important things we can do is pray for Israel. Here are 25 ways you can pray for the people and nation of Israel.
Your support of Israel today makes you part of the redemptive story God is telling through His people.
Take Action NOW. Join US Today.