Ten Ways You Can Pray for Israel
The Bible says to "Pray for the peace of Jerusalem" (Psalm 122:6). In CBN Israel's free guide, Ten Ways You Can Pray for Israel, you'll gain spiritual insights from Israel's patriarchs, prophets, and beloved New Testament leaders while also discovering how you can pray for the Jewish nation and people today.
Get your free copy of this valuable booklet today!
MAKE A DIFFERENCE WITH CBN ISRAEL
CBN
ISRAEL
The Christian Broadcasting Network (CBN) has been committed to supporting the nation and people of Israel for nearly 50 years.

By joining CBN Israel, you become part of this historic legacy while also shaping the future of Israel advocacy for generations to come.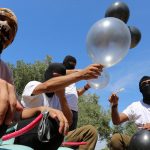 For generations, toy balloons have been a source of fun and joy. That was certainly true in Israel—until Hamas turned these instruments of amusement into implements of terror....
Read more
PRAY FOR ISRAEL
One of the most important things we can do is pray for Israel. Here are 25 ways you can pray for the people and nation of Israel.
Your support of Israel today makes you part of the redemptive story God is telling through His people.
Take Action NOW. Join US Today.