In Our Hands: The Battle for Jerusalem
Seen by hundreds of thousands in sold-out theaters across America, you can get your very own copy of this extraordinary film on DVD and stream it in 4K! For six days, surrounded by enemies—outgunned and outmanned—Israel stood alone and changed history.
Get your DVD plus 4K streaming access today!
MAKE A DIFFERENCE WITH CBN ISRAEL
CBN
ISRAEL
The Christian Broadcasting Network (CBN) has been committed to supporting the nation and people of Israel for nearly 50 years.

By joining CBN Israel, you become part of this historic legacy while also shaping the future of Israel advocacy for generations to come.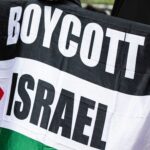 Entertainment industry insider Lana Melman is a formidable trailblazer. After two decades in executive positions at CBS, Columbia Pictures Television, Warner Brothers, and Paramount, and as a scriptwriter and executive producer,...
Read more
PRAY FOR ISRAEL
One of the most important things we can do is pray for Israel. Here are 25 ways you can pray for the people and nation of Israel.
Your support of Israel today makes you part of the redemptive story God is telling through His people.
Take Action NOW. Join US Today.