CBN's 5-Film Israel DVD Collection
Through CBN's groundbreaking and critically acclaimed Israel films, you can discover the true story and history of the Jewish nation, its right to exist in the face of growing anti-Semitism worldwide, its innovative and entrepreneurial culture, and its commitment to helping others—even its enemies.
Get your DVDs plus streaming access today!

MAKE A DIFFERENCE WITH CBN ISRAEL
CBN
ISRAEL
The Christian Broadcasting Network (CBN) has been committed to supporting the nation and people of Israel for nearly 50 years.

By joining CBN Israel, you become part of this historic legacy while also shaping the future of Israel advocacy for generations to come.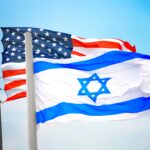 As we look for light amid the darkness of world events, the U.S. Congress might seem a surprising place to find it. Yet the enduring cooperation between the people and governments of the United States and Israel—surely a beacon of promise and hope—survives...
Read more
PRAY FOR ISRAEL
One of the most important things we can do is pray for Israel. Here are 25 ways you can pray for the people and nation of Israel.
Your support of Israel today makes you part of the redemptive story God is telling through His people.
Take Action NOW. Join US Today.