Why Christians Stand With Israel
A new wave of anti-Semitism is sweeping the world today, and the Jewish state faces hostility and threats at every turn. Now is the time for Bible-believing Christians to boldly declare to the world that we will support Israel and the Jewish people. In CBN Israel's free booklet, Why Christians Stand With Israel, by Pat Robertson, you'll discover why Christians support the Jewish nation and why we must stand together with God's chosen people.
Get your free copy of this valuable booklet today!
MAKE A DIFFERENCE WITH CBN ISRAEL
CBN
ISRAEL
The Christian Broadcasting Network (CBN) has been proudly committed to supporting the nation and people of Israel for nearly 50 years.

When you partner with CBN Israel, you become part of this historic legacy while also shaping the future of Israel advocacy for generations to come.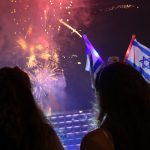 During Israel's 2020 Memorial Day observance, Dvora Waysman, an Israeli author and syndicated journalist, observed, "Israel is a country where so many parents have been called upon to bury their children, and the earth is saturated with tears. In the whole land, there is barely a family that has not…...
Read more
PRAY FOR ISRAEL
One of the most important things we can do is pray for Israel. Here are 25 ways you can pray for the people and nation of Israel.
Your support of Israel today makes you part of the redemptive story God is telling through His people.
Take Action NOW. Join US Today.