Stop the Boycott of Israel
Get your free copy of CBN's new guide, Stop the Boycott Israel! You'll find out why the Boycott, Divestment, and Sanctions (BDS) movement poses a serious threat to Israel. You'll also receive a toolbox of facts and action steps to use in your sphere of influence. Knowledge put into action will make you part of the solution as you stand beside the Jewish nation.
Get your free copy of this valuable booklet today!
MAKE A DIFFERENCE WITH CBN ISRAEL
CBN
ISRAEL
The Christian Broadcasting Network (CBN) has been committed to supporting the nation and people of Israel for nearly 50 years.

By joining CBN Israel, you become part of this historic legacy while also shaping the future of Israel advocacy for generations to come.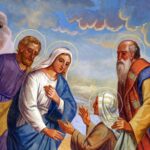 "He has shown strength with His arm; He has scattered the proud in the imagination of their hearts. He has put down the mighty from their thrones, and exalted the lowly. He has filled the hungry with good things, and the rich He has sent away empty. He has helped...
Read more
PRAY FOR ISRAEL
One of the most important things we can do is pray for Israel. Here are 25 ways you can pray for the people and nation of Israel.
Your support of Israel today makes you part of the redemptive story God is telling through His people.
Take Action NOW. Join US Today.